10 Home Design Trends for 2022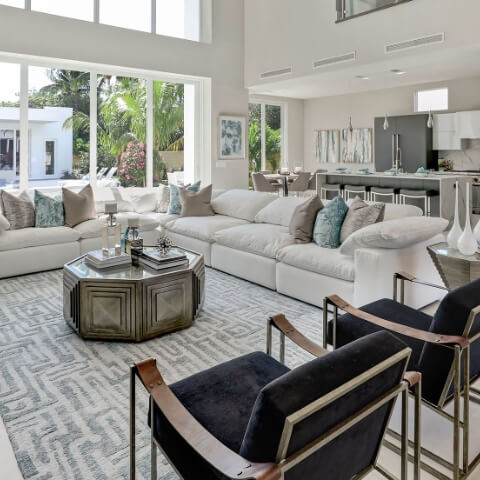 If you're ready for a fresh start this year, redecorating your home may be just what you need. This is especially the case if you're trying to sell the house soon and need it to look its best for buyers. If you're not sure where to begin, take a look at 10 home design trends that are popular in 2022.
1. Bolder Design Choices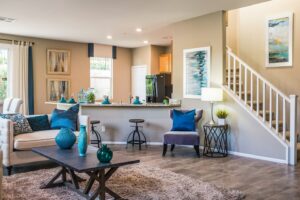 First, you should know that neutral colors and basic patterns are old news now. This year, people are getting more playful when it comes to designing their homes, resulting in bolder, more exciting design choices. For example, funky light fixtures and unique cabinet pulls will be expected in newly decorated homes this year.
This mood extends to the paint colors you'll see, as darker, more intense shades will show up more than ever. Some of the most popular paint colors for homes in 2022 are espresso brown, dark blue and pretty much any shade of green. Note that Pantone's Color of the Year for 2022 is Very Peri, which is a vibrant violet shade with exciting red undertones. So, don't be afraid to play around with interesting colors, patterns and design elements as you redecorate your house in 2022.
2. Making Practical Areas Look Playful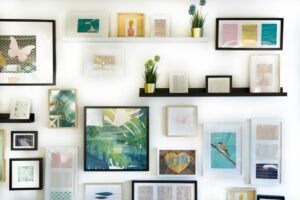 Speaking of playful, unique vibes, this is the year to bring some fun into practical places in the house. Previously, no one expected you to spend much time decorating your laundry room or walk-in pantry. But this year, you should rethink that attitude and add some excitement to these functional areas of the house.
You can start by picking a bold paint color for the walls and then add some of your favorite artwork or photography in colorful frames. You can also add interesting options to your laundry room, like drying racks, built-in shelves above the washer and dryer, elegant light fixtures and upgraded faucets on the sink. For your pantry, consider adding neat storage solutions that make it easy to organize food, pots and pans and small appliances. This will not only increase the functionality of the room but also make it more pleasing to the eye, which buyers are looking for this year.
3. Disco Era Design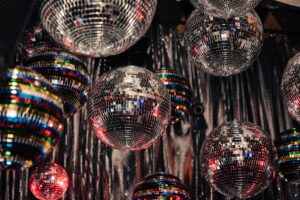 For better or for worse, 70s style seems to be back! That means home design trends for 2022 include a lot of mid-century design elements on furniture, such as teakwood, textured fabric and tapered table legs.
The 70s look also usually includes bright colors and patterns on furniture and walls alike. So consider mustard yellow, sage green, rust orange and harvest gold as fresh colors for your walls, kitchen cabinets or door trim. If you need a new pattern for walls and furniture, consider floral designs and geometric shapes, both of which were popular in the 70s.
4. Bringing the Outdoors In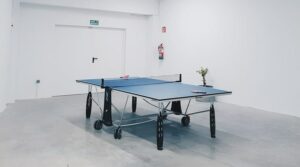 Another home design trend that's a holdover from the 70s is the idea of bringing the outside in. More specifically, houseplants have made a comeback. If you have a few interesting and colorful pots, plant hangers or plant stands to put the plants in, even better!
This trend of bringing the outside in carries over to furniture, too. This year, using wicker and woven furniture and décor inside the house is popular. Whether you outfit your family room with wicker chairs or put woven baskets on your end tables, you can join in on this home design idea for 2022.
5. Rounded Edges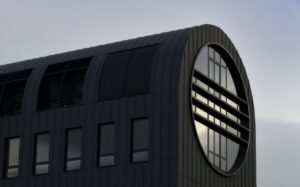 Sharp corners are out and rounded edges are in this year. Home design experts claim that curves in the house create a fresh, playful feel. If you plan to sell your house this year and want buyers to notice this trend in your home, you can start with your furniture, as armchairs, couches and tables with circular shapes are in. You can extend this trend to your décor, too, with rounded mirrors and picture frames on the walls.
If you're redesigning built-in components in your house, consider adding some curves. Rounded kitchen islands, shower doors and walls will make an impression on buyers who like the latest home design trends.
6. Dramatic Designs in Bedrooms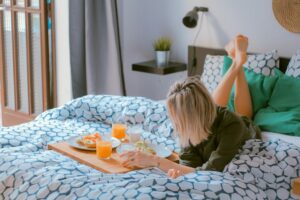 If you're thinking about remodeling your bedroom, stay away from subtlety and go for a dramatic feel instead. That's because moody, intense choices for bedrooms are among the home design trends for 2022. So if you like dark colors on the walls and over-the-top elegant design choices, you're in luck!
This year, trendy bedrooms will look similar to classy hotels, complete with textured walls, luxurious fabrics and bold colors everywhere. Even canopy beds have made a comeback. Essentially, maximalism is replacing minimalism in 2022, so feel free to go a little extra when you're designing your room. This is the time to use fancy fabrics like velvet and mohair, rich color palettes, statement lighting and unique décor.
7. Laminate Flooring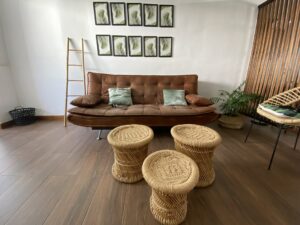 New flooring always appeals to buyers. If you want your house to fit in with the home design trends for 2022, go with laminate vinyl plank flooring that looks like hardwood. This is especially popular lately because not only does it look good, it's also less expensive to install than carpet. Plus, it happens to be durable and resistant to water.
This year, textured laminate will be particularly popular. So, whether you choose lighter or darker flooring, go for embossed, distressed or hand scraped laminate to get a unique look for your home.  
8. Vintage Décor

This is the year to use any vintage decorations and furniture you've kept over time. After all, finding new selections that suit your house can be tough in 2022 due to supply chain issues. So, why not stick with what you already have, even if it means looking through storage or redesigning an old piece to give it a new look?
Of course, if you don't have anything vintage, you can easily fix that on a budget by shopping at thrift stores and garage sales in your area. Whether you find an old dresser or antique chair, you can fix it up with some new paint or hardware and then proudly display it in your living room—all without spending much!
9. Multi Use Space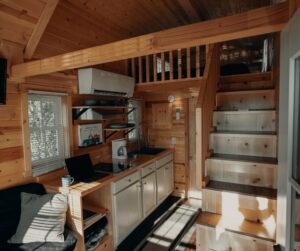 Another home design trend for 2022 is getting more use out of every room in the house. No longer is the family room just for gathering with friends or watching TV with the family. You can get more use out of it by creating a reading nook in the corner with the addition of a comfortable chair, bookshelf and cozy rug. You can also make part of your kitchen an ideal place to study or work from home, with some counter space and an office chair that invites people to sit and get some work done.
And that guest room you rarely use could be used as a dedicated home office when you add a desk and a wall calendar to one side. Even if you don't need multi-use rooms yourself, you should think about how you can arrange a couple in your house to show buyers that you have the perfect spot for a home office, study area for the kids or a home gym.
10. Natural Textures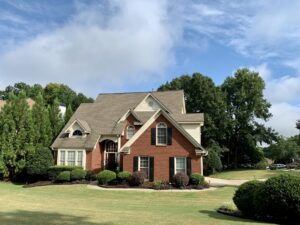 Finally, expect to see more natural textures in trendy homes this year. This could mean more stone or wood being added to walls or bronze faucets being installed in bathrooms and kitchens. Plaster, clay and leather are other natural textures that are popular this year.
If you just want to add a hint of natural textures around your house, you can decorate with clay vases, wooden bowls and of course, potted plants. If you're thinking of buying new furniture, a leather couch or wicker chair would fit in perfectly with the more natural design trend this year.
Do any of these home design trends for 2022 appeal to you? If you don't know where to start when it comes to improving your home design this year, contact us for help with interior decorating or home staging before you sell!